Souhei Imamura----Yasuhiro Minami----Sotaro Yamamoto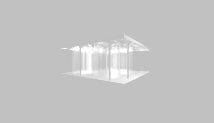 Welcome to the English homepage of 'Prospector Association' /
Prospector Association is a network of three independent architects, who have different backgrounds of architect offices and schools. We create new phase of architecture and activate critical discourse on architecture and city, based on rich practical experience and several research projects.
We are ready to cope with variety of projects, from a tiny urban house to a bigger scale complex, using our past experience of involvement in house, housing, museum, office building, library, landscape and so on. We optimize the benefit of our network condition and we believe each member's independent ability and mutual cooperation are such potential ones.
At the same, we are producing a number of texts and teaching at several schools. These activities, including theoretical thinking, and design works have polemically interactive relationships. This is the essential character of Prospector Association.

Souhei Imamura
( Atelier Imamu )

Yasuhiro Minami
( Atelier Implexe )

Sotaro Yamamoto
( Atelier Sotaro Yamamoto )

Copy right(C) 2004 Prospector Association all rights reserved